it seems never ending. the heat in my downstairs is overcoming my will to dye. on a day that taps out my ability at well over 100 degrees (humidity not included...) here i sit still...yarn soaking on the stove, at just under 180, my downstairs fan unable to keep up, the sweat beeds rolling down my back..here i sit.
First up is a completed Fish in Bags on Cestari Fine Merino for this weeks upcoming "goldfish" stocking. If you need to know more about what a "goldfish stocking" is
this link
will fill you in on the details....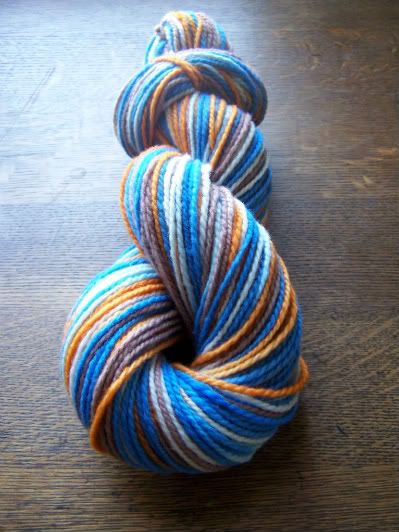 Then interlock. Oh how i despise thee...never never again will I dye interlock that is already sewn into a garment. For starters, it make be next to impossible to make it even. Although, I must admit this is the closest anyone has come before me **insert stupid laught here...**
This is for a FANTASTIC sweet mama who sent me a yarn and a list of my colorways that she liked and said "SURPISE ME" I mean really, who doesn't love a good suprise? So, Mint Choco it was...other possibilities included Fish in Bags (which I am over due to the dyeing for the upcoming stocking), Mocha Mocha Latte (AKA: Warmth), Run Fox Run, and Elements...