thank you to everyone who made the first mini-stocking of iCrave such a success! everything was sold out in a matter of minutes. i was, for one, in shock!
pictures of everything, from left to right:
1. raz-berry riot on purewool merino
2. emperor's new clothes on peruvian
3. parimala on purewool
4. the fox and the owl on purewool
5. arizona midnights on peruvian *seconds*
6. strawberry wine on peruvian
7. almost spring on peruvian
8. agate on purewool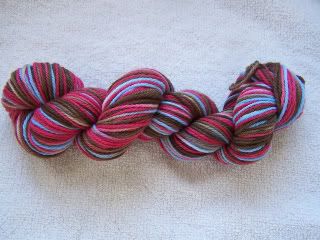 I've since ordered 13 skeins of Black-Berry Ridge 2-ply merino. It arrived today and is rather delicious. I'll start dyeing soon. Some of the colorways for my next stocking will be repeats of this stocking and some will be new. Keep your eyes peeled!